Union Pacific Railroad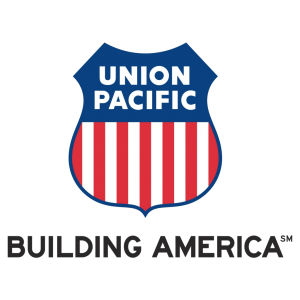 Union Pacific is proud of the partnerships it shares with the 7,300 communities it serves throughout the western two-thirds of the United States. It's a tradition that began more than 150 years ago, and that will continue tomorrow and beyond.
Union Pacific Railroad is the principal operating company of Union Pacific Corporation (NYSE: UNP). One of America's most recognized companies, Union Pacific Railroad connects 23 states in the western two-thirds of the country by rail, providing a critical link in the global supply chain. From 2005-2014, Union Pacific invested more than $31 billion in its network and operations to support America's transportation infrastructure. The railroad's diversified business mix includes Agricultural Products, Automotive, Chemicals, Coal, Industrial Products and Intermodal. Union Pacific serves many of the fastest-growing U.S. population centers, operates from all major West Coast and Gulf Coast ports to eastern gateways, connects with Canada's rail systems and is the only railroad serving all six major Mexico gateways. Union Pacific provides value to its roughly 10,000 customers by delivering products in a safe, reliable, fuel-efficient and environmentally responsible manner.
For further information, contact Mike Staffenbeal at (402) 544-4227.
The statements and information contained in the news releases provided by Union Pacific speak only as of the date issued. Such information by its nature may become outdated, and investors should not assume that the statements and information contained in Union Pacific's news releases remain current after the date issued. Union Pacific makes no commitment, and disclaims any duty, to update any of this information.