LAX Integrated Express Solutions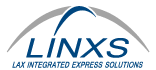 LAX Integrated Express Solutions (LINXS) is a fully integrated team comprised of Fluor, Balfour Beatty, ACS Infrastructure Development, Dragados USA, HOCHTIEF PPP Solutions, Flatiron, and Bombardier Transportation, and is further supported by an exceptional design team comprised of HDR and HNTB. Bombardier Transportation, the global leader for APM technology and operations, will provide the APM Operating System, including all vehicles. LINXS brings unparalleled experience and expertise in delivering complex transportation infrastructure, including over 50 public-private partnerships in North America with a combined value of over $40 billion. Leveraging our strong presence in Southern California, LINXS is also proud to partner with a significant number of local, small, and disadvantaged business enterprises to deliver the project.
LINXS is honored to have been selected by Los Angeles World Airports (LAWA) as the Recommended Developer on the Automated People Mover Project. We are thrilled to begin work on this project, which will transform the experience for travelers at one of America's busiest and most iconic airports, while bringing jobs and workforce development opportunities to the local community. We are also excited to join with LAWA on its first public-private partnership, providing a best-value technical and financial solution to extend LAX's world-class facilities, reduce congestion and provide time-certain travel options.