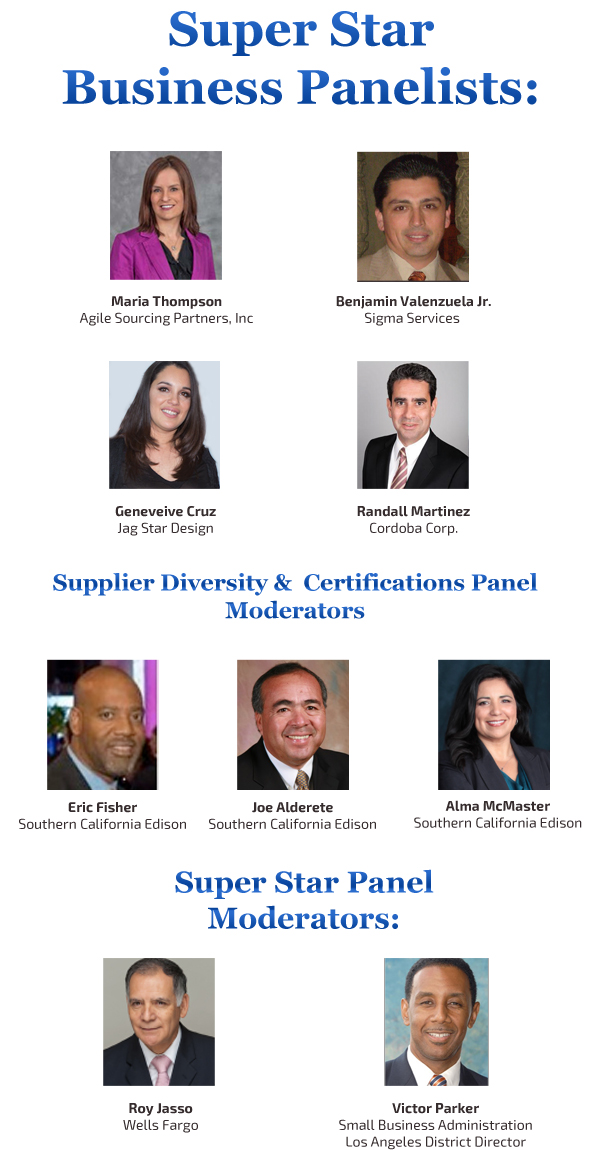 Agenda
8:30 am to 9:00 am
Registration
9:00 am to 10:00 am
Supplier Diversity Panel and Certifications Panel
Moderator:
Joe Alderete, Southern California Edison
Panelists:
Jason Brod, Port of Long Beach
Drisha Melton, California Public Utilities
Eric Fisher, Southern California Edison
Tonia Burgess, Department of General Services
Los Angeles County Metropolitan Transportation Authority
Carmen Bermudez-Bracy, Metropolitan Water District
10:00 am to 11:45 am
Speed Matchmaking
Moderator:
Rose Cote, Los Angeles World Airports
12:00 pm
Remarks:
.UNO Free Domain name to all Attendees
Lunch Moderators:
Victor Parker and Roy Jasso
Remarks by:
Alma McMaster Southern California Edison
Super Stars:
Geneveive Cruz
Ben Valenzuela
Maria Thompson
Randall Martinez
12:30 pm to 2:00 pm
Super Star Business Panel Luncheon
Networking Mixer
Fashion Show
Who should attend.
Business Owners
Suppliers
Corporations
Government Agencies
Why you don't want to miss it.
Attendees will have the opportunity to promote their company and services.
The Speed Business Matchmaking will pair companies based on business categories to guarantee quality meetings.
Suppliers can showcase their companies before the event by uploading marketing brochures, videos and company descriptions to their business profiles.
The "speed" business matchmaker will match corporations and federal agencies with qualified small business in the Southern California area.